2022-2023 Player Registration
---
If you have any questions regarding fees, payments or accessing your RAMP account, please email the CRRA Registrar at registrarcrra@gmail.com.
FEES AND DUE DATES FOR THE CRRA 2022-2023 SEASON
Access RAMP to register, make payments and modify your personal credentials:
CRRA is now exclusively using RAMP for registrations, accessible here: CRRA RAMP registration page
**ONLY ONLINE REGISTRATIONS ARE ACCEPTED**
You will need to complete your waivers within this tool to complete your registration.
We are only accepting online payments this season. Online payments will be processed via RAMP.
To pay - you will need to login to your CRRA RAMP account and select the package that best suits you. It should be straightforward and select the package you want. The only thing you need to remember is for which division you have registered your player(s).
Please note: You will need to select and pay for both the Ringette Ontario fee and the CRRA Registration fee.
What costs do registration fees cover?
Registration fees include ice costs, but also:
Jerseys, including learn to skate jerseys and all game jerseys;

Equipment, such as cones, rings, and pinnies;

Bench staff training requirements, e.g. coaches' clinics, first aid clinics, respect in sport courses;

Official fees, for all league games; and

Personal Protective Equipment (PPE) for trainers
TO REGISTER:
CLICK HERE to access the CRRA Registration

Enter your RAMP login information

Select 'Participant'

Choose a family member to register

Choose a division
DIVISION MATRIX: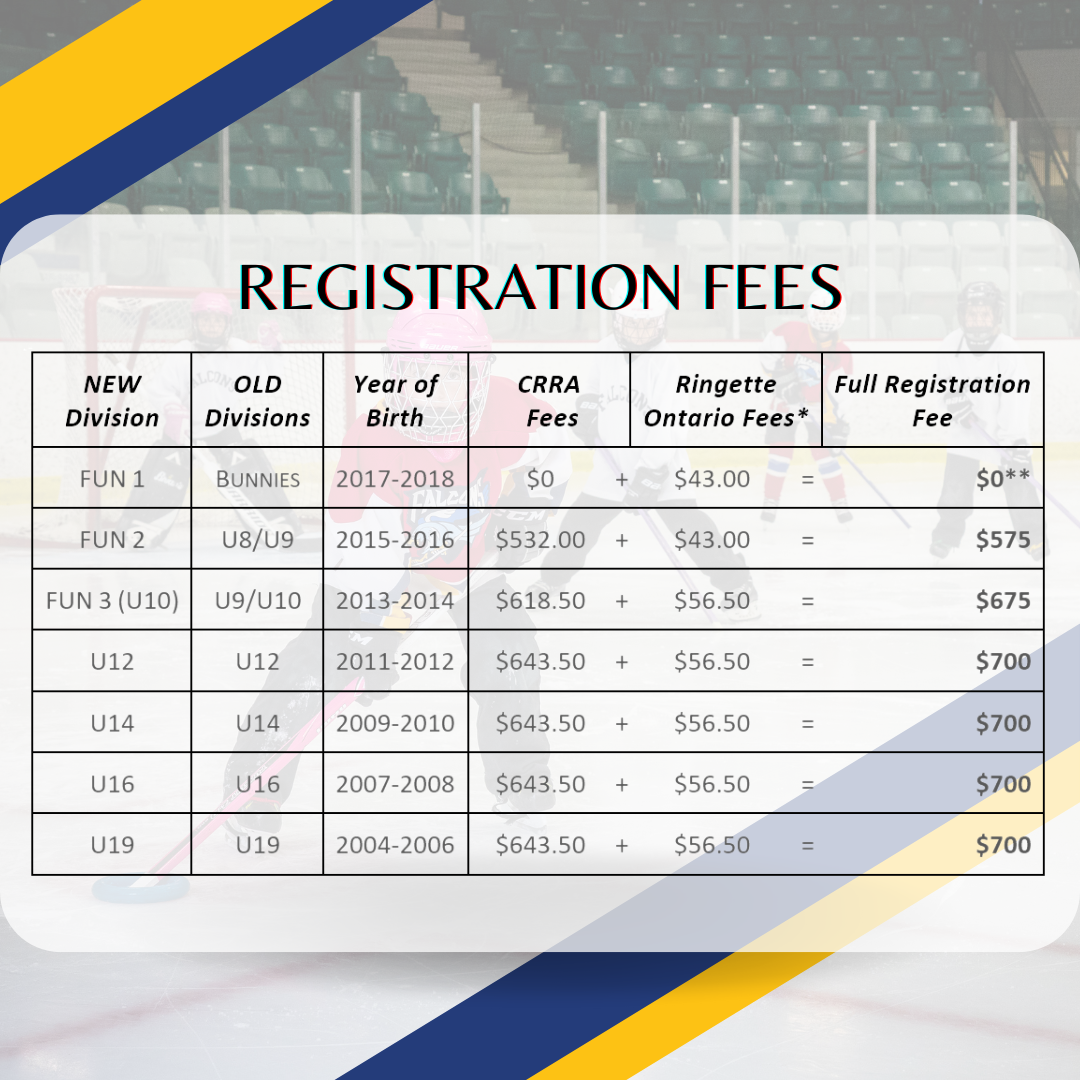 * Ringette Ontario (RO) fees including membership to RO, dues and insurance.
** CRRA received a grant from Ringette Ontario for the 2022-23 season, to support and to encourage participation in the FUN1 program in our association. Thanks to this grant, the registration for FUN1 players is free for the 2022-23 season. Please note: In the interest of player safety and to offer the best opportunity to thrive to each player/team, as stated in the Fundamental program, the level of play will be assessed during ice times.
FUN1 Promo code: FUN2022 to obtain the discount.
Parents - do not worry about making the right selection, it will not drive where the player is placed. As long as you are registered your player will be contacted as necessary to understand experience and attend sort outs as necessary. You will be contacted should it be determined that your player should be moved to a different level of play.
FAMILY DISCOUNTS:
If you have 3 or more children registered with CRRA this season please contact our registrar at registrarcrra@gmail.com to request a PROMO CODE, which can be used to receive the appropriate discount when registering your 3rd and 4th child.
3rd child will receive 50% off the regular registration fee
4th child and more will receive 75% of the regular registration fee
GOALIE DISCOUNTS:
If you have a child registered as a full-time goalie with CRRA this season, please contact our registrar at registrarcrra@gmail.com to request a PROMO CODE, which can be used to receive the appropriate discount (50%) when registering your child.
FUNdamentals PROGRAM:
Click here for more details about our FUNdamentals programs.
Depending on entry point into the sport and after assessments, athletes may be better suited to play for a different group. There is also some fluidity to the program to allow movement between groups, especially at FUN1/2 as some athletes may progress at a faster rate than others.
PAYMENT OPTIONS:
Pay in full now, balance due by September 30th.
Installment on balance
Due date is September 30th
FINANCIAL ASSISTANCE:
For families requiring assistance there is a program which offers relief funding for sport: Jumpstart which can be found at https://jumpstart.canadiantire.ca
REFUND/WITHDRAWAL POLICY:
For 2022-2023 season, the following applies to refunds:
There will be a $40 administration fee on all refunds.
Withdrawals prior to September 15th: 100% of the registration fee received, minus $40 admin fee
Withdrawals prior to November 15th: 66% of the registration fee received, minus $40 admin fee
Withdrawals after November 15th: no refunds
Refunds for a player withdrawing for medical reasons will be prorated and dealt with on a case-by-case basis.
Once a refund has been issued, the player will not be allowed to return to play for the remainder of the refunded season.
ADDITIONAL INFORMATION:
For more information or if you have any problems or questions, please contact our registrar at registrarcrra@gmail.com.
Parents will be responsible for the cost of tournaments and other team-related expenses and should expect to pay a team fee depending on the amount of fundraising the team does. The amount required will depend on the level of play
Each player/family is expected to participate in fundraising events and sponsorship programs.